Radiant Barrier Installation in DFW Metroplex
Adding a radiant barrier to your attic will improve your energy efficiency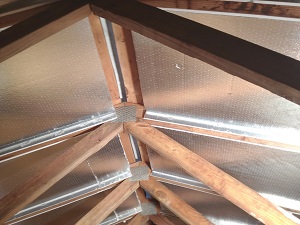 Adding a radiant barrier to your attic will reflect heat and help your air conditioning system run more efficiently.
The temperature of your attic has a huge impact on your home's comfort and energy efficiency, and during the summer months the attic is the hottest part of your home. If you have ductwork in your attic, it will heat up as well and force your air conditioner to run longer to get your home to the right temperature.
Radiant barriers are the ideal solution to this problem. At First Defense Insulation LLC, we can install a radiant barrier to reflect heat as it enters your roof, keeping your attic cooler and helping your AC run more efficiently. If you're interested in radiant barrier installation for your home, give us a call today to get a free estimate in Plano, Garland, Frisco and nearby.
How radiant barriers help improve your energy efficiency
The purpose of a radiant barrier is to reflect heat. In the summer, the sun heats up your roof and attic, which makes the rest of the home warmer. When you have ductwork in your attic, the problem is compounded as ducts are heated up and cool air from the air conditioner must pass through hot ductwork.
Radiant barriers prevent these problems by limiting heat transfer into the attic. Here are some good reasons to install a radiant barrier in your home:
Reflects up to 97% of sun's heat
Reduces cooling costs by as much as 15%
Lowers attic temperatures by as much as 30° F
Improve your home's energy efficiency with radiant barrier installation
If you have issues with expensive utility bills and uncomfortably hot rooms, a radiant barrier could be the solution you need. First Defense Insulation LLC can evaluate your home and recommend the right energy saving solutions for your needs, including radiant barriers, air sealing, and attic insulation.
Call us today at 1-844-217-2545 or contact us online to get started with a free estimate for radiant barrier installation. We offer all our services in Plano, Garland, Frisco, Richardson, Allen, Rowlett, Wylie, Sachse, Addison, Dallas and throughout the surrounding areas.
Looking for a price? Get a no cost, no obligation free estimate.